Garden Home
"A place to enjoy the scenery from the windows, to write, to get lost in one's thoughts." 
The concept of this building is based on simple requests that we want to cherish in our daily lives. The white plastered walls and the timber colours are clean and bright. In the bathroom, on the other hand, the use of dark African teak wood creates a different atmosphere to the living room. To prepare the garden and ensure the depth of the garden, an L-shaped plane was set up, with a structure of a gently sloping irimoya over it, in anticipation of a vegetable garden in the midst of nature. The space is designed to enjoy spring, summer, autumn, and winter while being healed by the patterns of plants, trees, and mountain views.
Construction date

Septenber 2022

Location

Hokuto City, Yamanashi

Total floor area

85.3㎡

Number of floors

one-story

Structure

Wood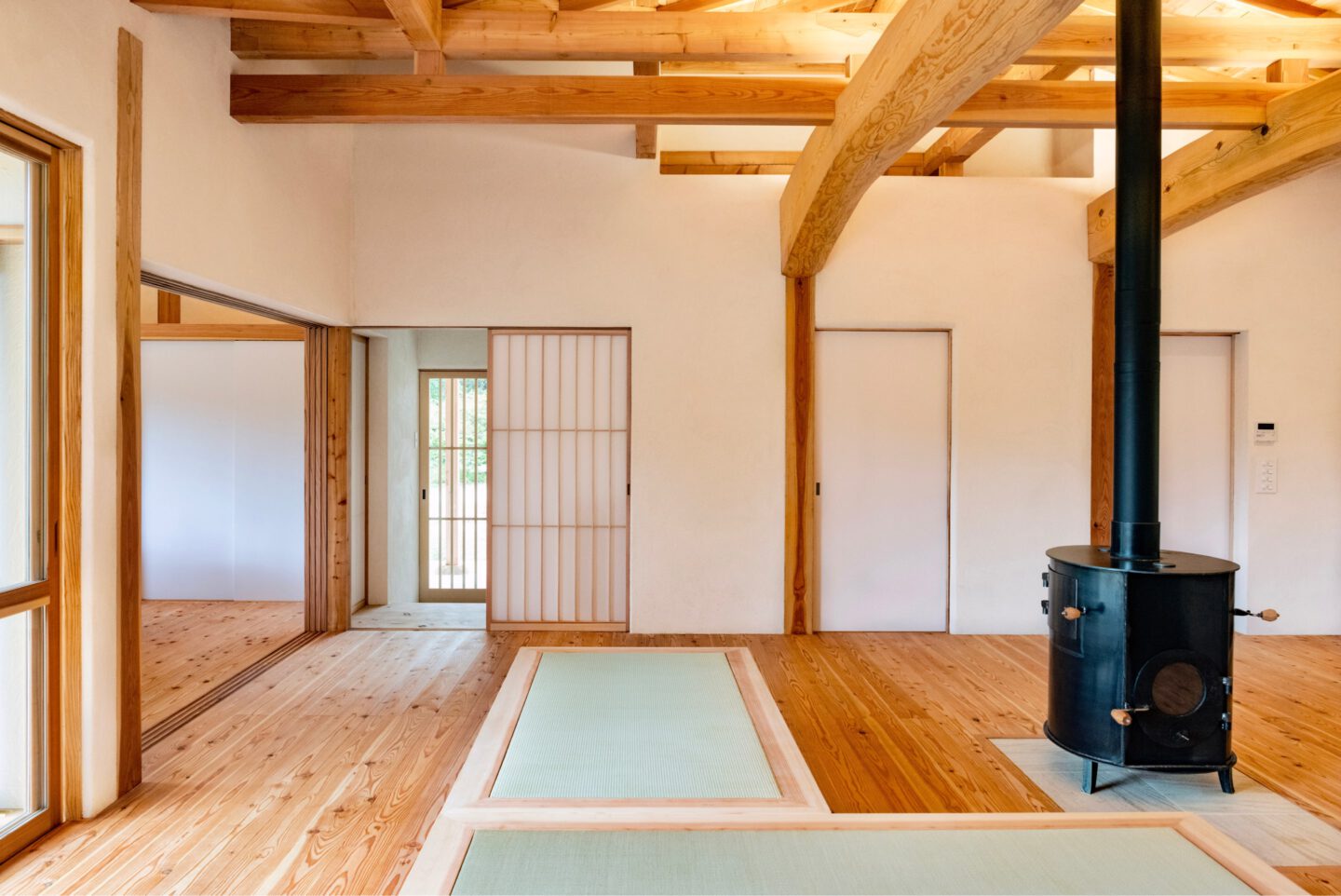 The spacious living room and dining room are flooded with natural light and greenery from the large windows. On the other hand, there is a full range of wooden fittings to partition the space according to usage, making the space compact yet spacious and open. Thanks to the one-room specification, which does not divide the rooms, the whole building is heated by a central wood-burning stove.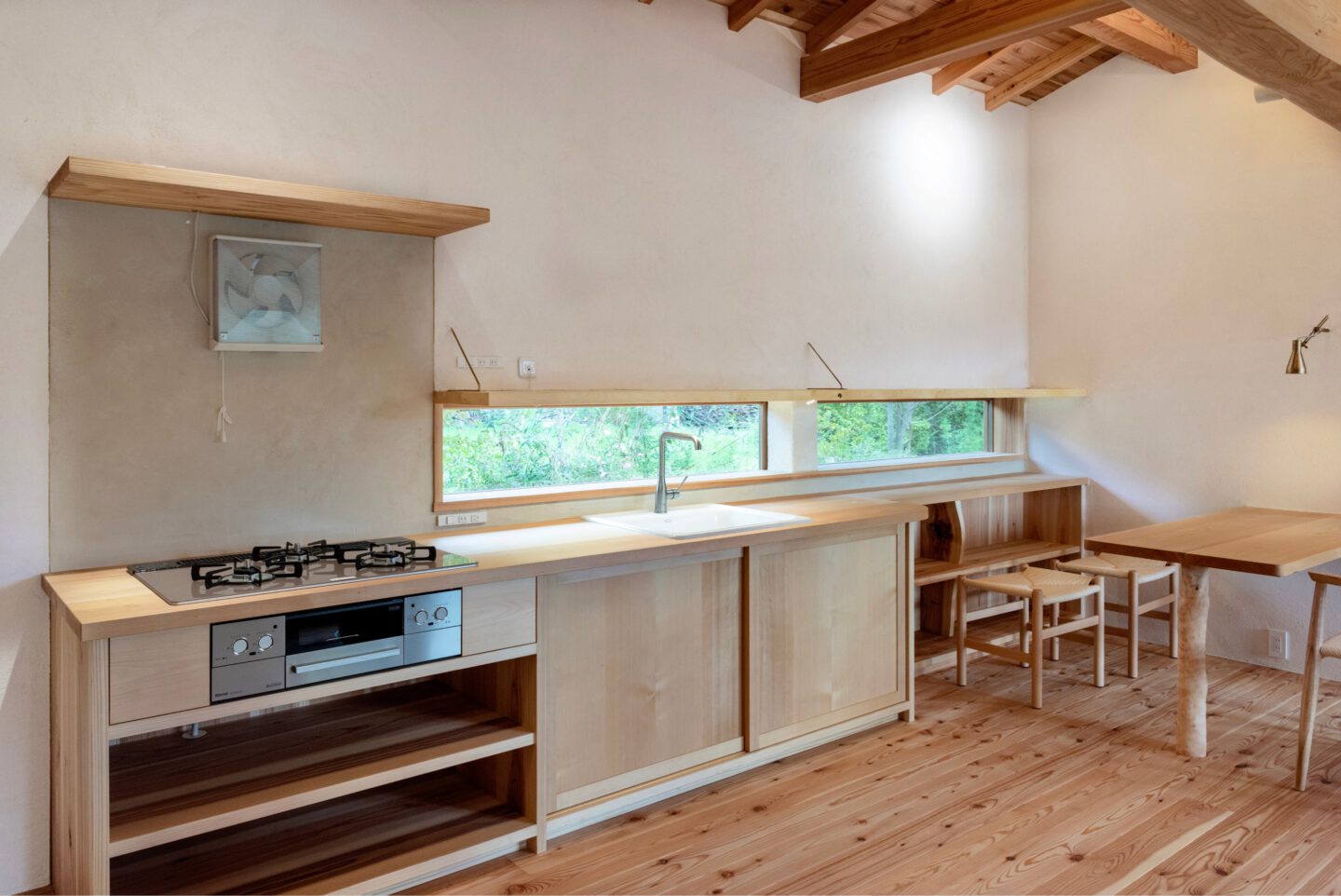 Compact, hand-built kitchen and dining room. Low horizontal windows have been set up to avoid line of sight to the outside. Shelves are used as reflectors to actively let in light, so that natural light alone is sufficient during the day. The outside view is borrowed, and the minimalist interior is built to reflect the greenery. The climate of the Yatsugatake area, a summer resort, and the architecture that can evoke the nature of the rustic house make it possible to spend a comfortable time without the need for air conditioning, even in midsummer.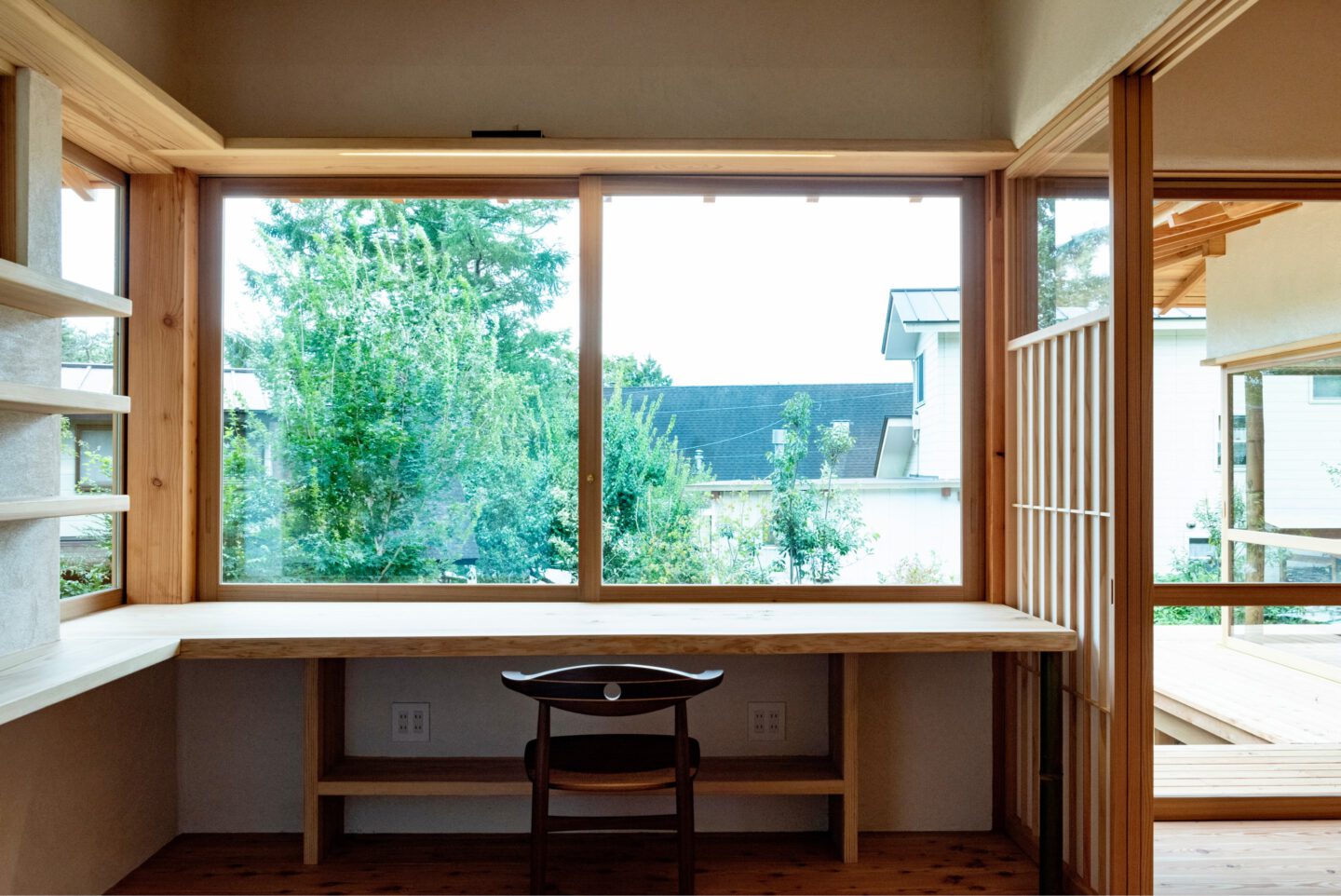 The study includes a desk from where one can experience the garden and nature, the desk is surrounded by wood and designed to enhance concentration. Enjoying the mountain views and observing the changing face of the garden is one of the building's main charms.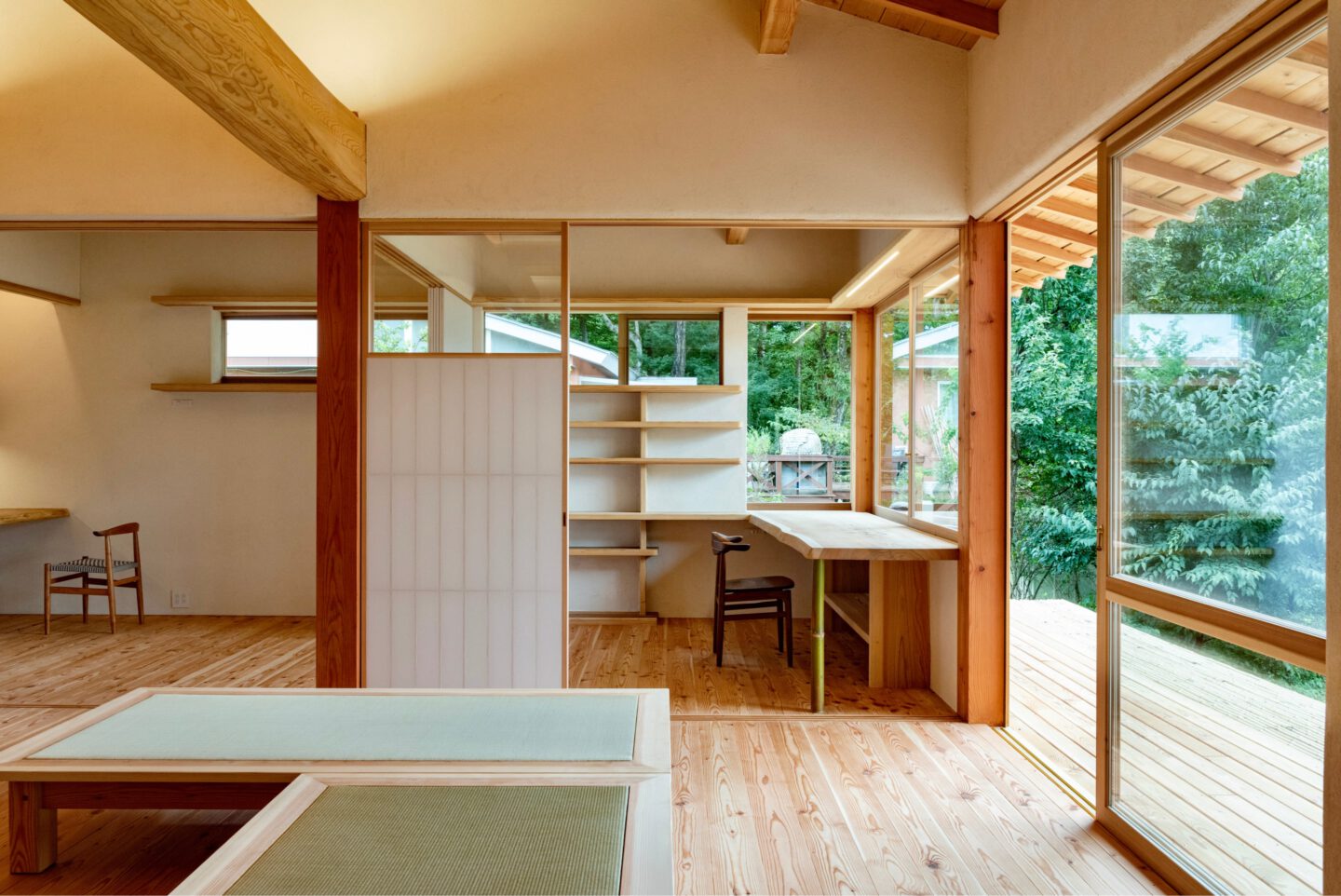 Shoji screens were installed to separate the study from the living room. The upper part of the shoji is made of glass, allowing the view from the living room to the forest in the back, even when closed.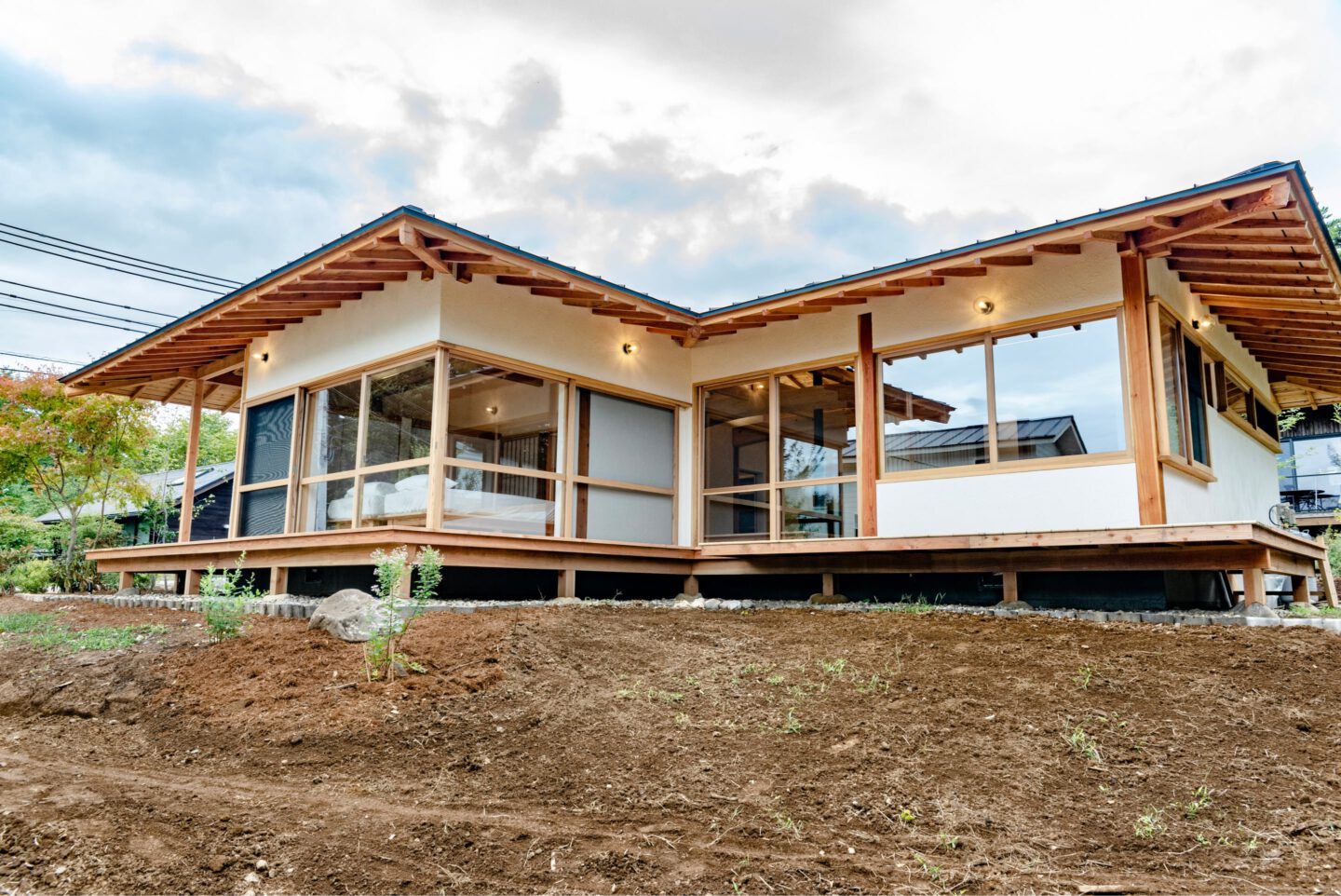 Another feature of the house is the access around the open veranda, which gives instant access to the garden. The wide veranda, which is reminiscent of the stage of a shrine, emphasises the horizontality of the structure and gives the house a more spacious appearance.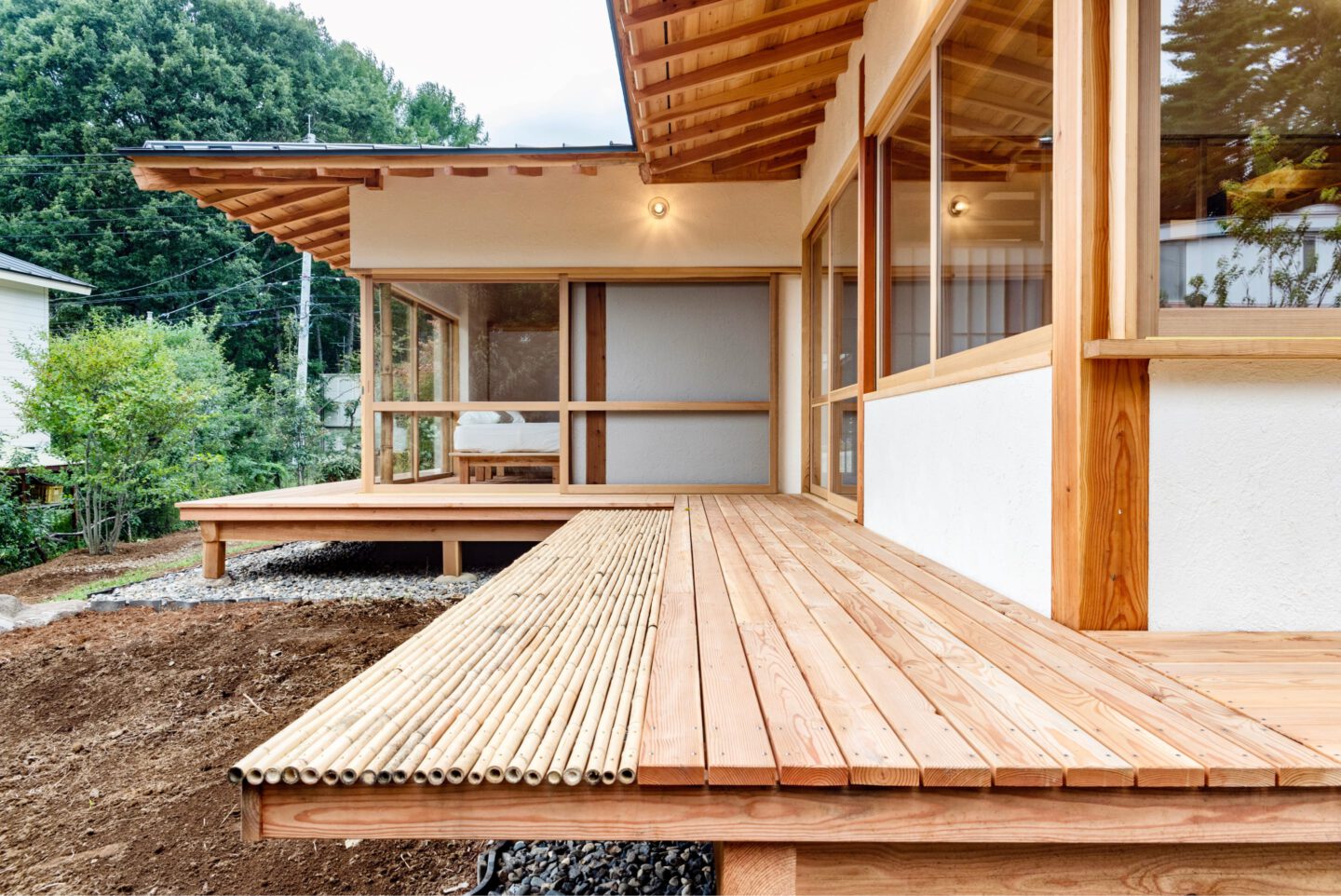 In addition to the open veranda, the use of bamboo accents allows the view of the bamboo even from inside the room, giving a feeling of expansiveness to the outside.
---